Listograhy
This weeks listography is top five bests
1. Best Decision
When i was 21 i made a decision that all although i did not know it at the time would change the rest of my life. My two best friend were going travelling and had been nagging me to join them but i was in a steady job and had a long term boyfriend so felt i should not go.
My boyfriend at the time was unreliable and the work was boring. My 21st birthday arrived and the then boyfriend let me down again but my amazing friends made sure i had a party to remember. The next day with a horrendous hangover i found myself handing in my notice chucking the boyfriend and in the travel agents with my friends booking my ticket outta here.
While in Greece working i met my lovely husband had the most fun ever with him and my best friends and the rest as they say is history. Eighteen years later I'm still with the gorgeous man i met on my travels and have a lovely son together.
2.Best book
This is a tricky one as i love to read but not many books deserve being read more than twice yet this one however does. Secrets about life every women should know, written by Barbara DI Angeli's. Its a really helpful comforting book if your facing a tough time and have big decisions to make. Please don't be put off by the spiritual bit it is an amazing book that really makes a lot of sense.
3. Best bit of advice
I know i have said this before but a really good friend gave me the babies don't keep poem when my little E was tiny and this was the best advice any one can give to a new mother.
http://makingitasmum.blogspot.com/2011/08/babies-dont-keep.html
4. Best film
Well Kate's probably going to give me a telling off for this but i can't make this just one film as quite honestly anything that has Jason Statham in it gets my vote. I also am a huge fan of 80s films they don't make em anymore like they used too. I know i know that wasn't one thing but well if your going to get a telling off may as well make it worth it !! Hopefully the lovely picture or the Stath will help me redeem myself.
5. Best thing i own
There is one thing i have its been my friend for over 10 years friends told me i would sell it as soon as little E arrived but i didn't. It never lets me down it is more practical than a people carrier as I'm usually the only mum remaining dry while loading my little one up in the pouring rain. It makes me smile and in fact it makes most people smile it is of course my lovely green Alfie Bug.
That's it this weeks listography complete hope you enjoyed it , i love to hear from you so feel free to leave a comment it makes my day. If you would like to make your own list head on over to the lovely Katetakes5 and have a go.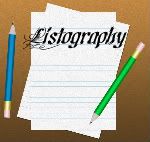 Thought of the day............ Stop thinking start doing.